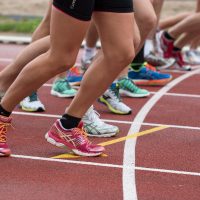 The Sutherland Booster Club Track Invite was moved up two days in anticipation of weather and found themselves in a beautiful day Thursday to get on the track as North Platte Saint Pat's girls and Wauneta-Palisade boys took home the team titles.
On the girl's side, the Lady Irish dominated with a team score of 134 points with Hershey coming in second at 86 points. Dundy County Stratton was third followed by South Platte and Maywood-Hayes Center. NPSP won six individual or relay events with a top six finish in nearly every event.
The boy's race was much closer with Wauneta-Palisade finishing at 90 points ahead of second place Sutherland who had 75. NPSP came in third just behind at 71 followed by Paxton and Dundy County Stratton.
Individually, the day was won by Wallace's Micah Swedberg who took home four gold medals, winning in the 100, 200 and 400 meter dashes, while also claiming the longest jump in the long jump.
Full results from the meet are available here for both boys and girls.