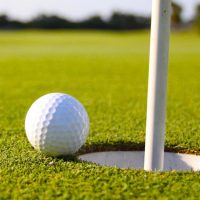 The Mullen Broncos golf team dominated the MNAC Golf Invite at Arnold yesterday, winning by 21 strokes and winning the individual title by 10 strokes. The Broncos finished at 376, well ahead of Anselmo-Merna at 397. Sandhills-Thedford came in third at 414 followed by South Loup at 461. Stapleton rounded out the top five at 487.
Individually, Koby Walker of Mullen posted the only score in the 80s, finishing right at 80, ten strokes ahead of second-place Jace Leibhart of Anselmo-Merna. Mullen's Brandon Peters also shot a 90 and Maxim Svoboda shot a 93. Sandhills-Thedford was led by Brett Downing who posted a 93.
Full team and individual results are available here.