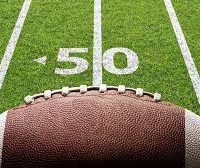 The Nebraska School Activities Association announced playoff brackets Saturday for 11 and 6 man football. In Class A the North Platte High Bulldogs are the 6th seed and will host the 11th seed Creighton Prep Friday. In Class C2, Chase County will travel to Ord after be seeded 15th.
In the Six Man ranks, Wallace makes it into the post-season as the 16th seed and will take on the top seeded Mustangs of Sumner-Eddyville Miller. Brady will travel to Potter-Dix in the battle of the 14th seeded Eagles and 3rd seeded Coyotes. The undefeated Arthur County Wolves are the 2nd seed and will host Wilcox-Hildreth the 15th seed.
Eight Man Playoffs began last week, on the heals of a round one victory over Elkhorn Valley, North Platte Saint Patrick's will host Sandy Creek in the D-1 ranks. After the Cougars upset Sandhills Valley in the first-round. After a first one victory South Loup will take on top seeded Howells Dodge in the D-2 ranks. Meanwhile Sandhills-Thedford will host Central Valley in Thedrord.
Full brackets can be viewed with the link provided below: