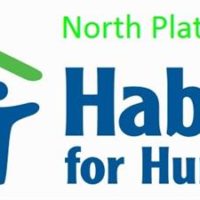 North Platte Area Habitat for Humanity Announces Home Dedication North Platte Area Habitat for Humanity is proud to announce a Home Dedication on Wednesday, January 25 at 5:00 p.m. at 1706 North Cody Avenue. Habitat for Humanity was formed with the idea that everyone deserves a decent place to live and builds three new homes in North Platte per year.
As active participants in building a better future for themselves and their families, qualified Habitat homeowner partners must meet certain criteria: be in need of better housing, be willing to partner with Habitat in the form of "sweat equity" or other services, and be able to afford an affordable mortgage.
The family of Amy Kaurman and daughter Destiny will receive the keys to their new home at the dedication ceremony.
"We are thrilled to have been able to partner with Amy and Destiny on their journey toward becoming homeowners and we are excited for them as they start this new chapter of their lives, built on the solid foundation of homeownership," says Dalene Skates, Executive Director of North Platte Area Habitat.
For more information, contact the Habitat office at 308-534-6251.
About Habitat for Humanity: NPAHFH works hard to make safe, decent, affordable homes available to low-income families. Through the support from the community we provide a hand up, rather than a hand out to those seeking a decent home of their own. Homes are built with volunteer labor and sold to qualified families at no profit, with no-interest loans.