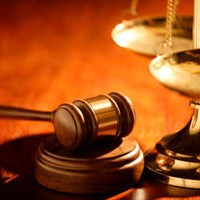 Normally, criminal cases are heard in Lincoln County District Court twice a month, but not so lately. The North Platte Bulletin reports Lincoln County District Court Judge Richard Birch retired at the end of May, leaving just one judge assigned to the district bench in Lincoln County. Instead of the two normal "motion days" a month, the district court heard criminal cases once in June. Another court session is scheduled July 11.   Patrick Heng, who was appointed to a district judgeship in December in Red Willow County, sat on the Lincoln County bench in June, to help Judge Michael Piccolo, who remains on the bench. Often, cases in district court go undecided while attorneys conduct further research. They are continued and no decisions are made, so the backlog of cases is not thought to be overwhelming. Deb McCarthy, the clerk of the Lincoln County District Court, said it will take some time to unwind the backlog, but didn't think the task would be overwhelming.
Birch sat on the district court bench for 10 years. Five applicants have submitted applications to take the seat. They won't be reviewed until Aug. 18 by a nominating committee, who will forward the top 2-3 names to Gov. Pete Ricketts. The governor usually takes 2-3 weeks to make an appointment. Applicants for the position are defense attorney Chawnta Durham of North Platte, Lincoln County Court Judge Joel Jay, Deputy County Attorney Mike Nozicka, as well as attorneys Shane Cochran of Kearney and Cindy Volkmer of North Platte.
The process:
The public hearing of the Judicial Nominating Commission will be held in the District Court Courtroom, Lincoln County Courthouse, 301 N. Jeffers in North Platte, beginning at 9 a.m. Aug. 18. The commission will interview all applicants for the office at that time. The meeting is public. To minimize any partisan divides, the nominating commission is balanced between Republicans, Democrats and Independents. Any member of the public wishing to present testimony for the commission's consideration may do so in writing or orally. Written testimony or other pertinent information may be mailed to the Commission Chair no later than Aug. 11 to Justice Jeffrey J. Funke, Nebraska Supreme Court, PO Box 98910, Lincoln, NE 68509 or email it to dawn.mussmann@nebraska.gov.
Oral testimony may be presented so at the public hearing Aug. 18 in the courtroom. All persons attending should be prepared to comply with any directed health measures that may be in effect.  The eight members of the nominating committee are: Attorneys Angela Franz, Russ Jones, Stephen Herman and Jim Paloucek, and lay members Michael Cook and Karen Waite of Noth Platte, Allen Dunworth of Culbertson and Mark Christensen of Imperial.
For special accommodations relating to the Americans with Disabilities Act, please call (402) 471-3730.  For persons who are deaf or hard of hearing, please call the Nebraska Relay System, 7-1-1. AA/EOE. The judicial district consists of these counties — Arthur, Chase, Dawson, Dundy, Frontier, Furnas, Gosper, Hayes, Hitchcock, Hooker, Keith, Lincoln, Logan, McPherson, Perkins, Red Willow, and Thomas.