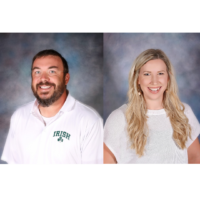 Release: North Platte Catholic Schools – North Platte Catholic Schools is excited to announce that they have hired Brad Braithwait and Maddy Krebs to serve as Co-Athletic Directors. "These two individuals have been heavily involved with our school over the last few years." Superintendent Kevin Dodson stated. "They know our Irish community, our coaching staff, and our student athletes. I'm confident they will do an amazing job overseeing all aspects of our athletic programs here at St. Pat's." "Brad and Maddy have a strong faith and share a great passion for our Irish athletics." said Dodson.
Brathwait is a 2001 graduate of Arapahoe High School. He played basketball under Coach Kevin O'Connor at Mid-Plains Community College and earned his Associates of Science degree in 2003. He continued basketball under Coach Tom Kropp at UNK the 2003-04 season and graduated from the University of Nebraska at Kearney with degrees in K-12 Health/Physical Education and 7-12 English in 2007. He student taught at St Patrick's High School in 2007 and took a position as an assistant coach for Irish football, which he still holds today. Braithwait was employed as an elementary PE teacher for North Platte Public Schools for three years until he accepted his current position as a Sophomore English teacher and 7-12 Health, Physical Education, and Weightlifting teacher at North Platte Catholic Schools in 2011.
Besides being an assistant football coach for the Irish for the last 14 years, Braithwait was the assistant girls basketball coach for 12 seasons (2009-2021) and head boys' track coach for ten seasons (2010-2020). In the spring of 2021, he helped pioneer the MSP baseball team as an assistant coach and continues in that position. This is he first high school baseball team west of Kearney. Brad is married to Jessica Braithwait and together have three children, Jaxon (13), Braylon (11), and Mylah (4) who all attend North Platte Catholic Schools.
Krebs graduated in 2008 from St. Pat's High School. She attended North Platte Community College for two years. She then attended Peru State College where she graduated with a Bachelor's Degree in Education. After receiving her Bachelor's Degree, she continued her education and received her Master's Degree in Curriculum and Instruction from Peru State College.
Krebs taught at North Platte Public Schools in both 2nd and 3rd grades for 5 years before taking time off to stay home with her children.
In 2020 she was hired on as North Platte Catholic Schools Head Volleyball Coach and continues to hold that title. She currently works at St. Pat's High School in the Activities Department.
She is the owner of North Platte Jazzercise. Maddy is married to Koby Krebs and they have two children, Maxine and Frankie.