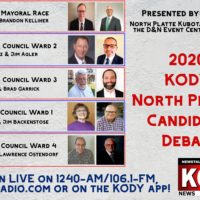 North Platte City Council election races are heating up, with all four wards contested and KODY and Huskeradio is giving you a chance to hear from the candidates themselves directly. On Tuesday, KODY hosted night two of their round of debates, featuring wards two and three for the North Platte City Council.
Ward two features Pete Volz and Jim Agler, while ward three includes Don Kurre and Brad Garrick.
Audio from both one-hour debates is available below.
The final night of the KODY debates is Wednesday, beginning at 5 PM with ward 1 candidates Donna Tryon and Jim Backenstose, followed by ward 4 with Lawrence Ostendorf and Mark Woods at 6 PM. Listen live to those debates on 1240-AM, 106.1-FM, huskeradio.com or on the KODY mobile app.
North Platte City Council Ward 2 Debate Audio:
North Platte City Council Ward 3 Debate Audio: