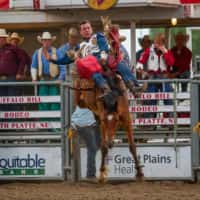 Even with no fans, the show must go on. And the Buffalo Bill Rodeo did. Less than three hours before the rodeo was to start, the decision was made to not allow spectators in the stands, due to the COVID-19 pandemic. But the rodeo competition was as strong as ever. Cowboy Jake Finlay scored 85.5 points on Beutler and Son Rodeo's Night Latch to take the lead in the saddle bronc riding.
The Australian born and raised cowboy came to the United States as a high school senior, to compete at the National High School Finals Rodeo in 2013. He got recruited to ride for Panhandle State University  in Goodwell, Okla., and sent to school there, helping the school win the men's team title for the National Intercollegiate Rodeo Association and winning a saddle bronc riding title as well.
He never left the States. "I didn't want to go home and work, so here I am," he joked. Now, the 25-year old competes full time and last year, finished one spot from qualifying for the Wrangler National Finals Rodeo. "I was close to the Finals last year," he said. This year, he's sitting seventeenth in the world standings; the top fifteen, when the rodeo season ends Sept. 30, go to the Wrangler NFR. But he doesn't keep track of standings. "I really don't care to look at it," he said. "There's only one day of the year that it matters, and that's October first. You just have to ride every horse, put 23 (points) on every one, and you can't do much more than that."
The Buffalo Bill Rodeo hasn't always been kind to Finlay. On his first trip, he got bucked off. The second time, he landed on his head, knocking him out. Last year, he made a qualified ride but it wasn't good enough to win a check. Still, he likes coming to North Platte. "It's a good rodeo with good hospitality." He now makes his home in Canyon, Texas. The breakaway roping lead changed during slack on Thursday morning. Kennebec, S.D.'s C.Y. Christensen turned in a time of 2.3 seconds to top of the leaderboard.
At 26 years old, she estimates she's roped since the age of six. She competed at the National High School Finals three out of four of her high school years, making the short round in 2013. At Laramie County Community College, she made it to the College National Finals Rodeo in 2015.
Now, as a crop adjuster, she can set her own hours and rodeo when it fits into her schedule. In addition to pro rodeos, she competes at the regional level, in the South Dakota Rodeo Association and the Nebraska State Rodeo Association and has qualified for the SDRA Finals the last six years. Christensen is grateful the Buffalo Bill Rodeo committee added breakaway roping to the rodeo. "It's awesome," she said. "A big thanks to the committee. It's awesome we get to rope here."
Other fast times and high scores for the second night of the rodeo include bareback rider Zach Hibler, Wheeler, Texas (84.5 points); steer wrestler Kalane Anders, Bayard, Neb. (4.8 seconds); tie-down roper Trey Young, Dupree, S.D. (8.9 seconds); team ropers Nelson Wyatt, Clanton, Ala. and Levi Lord, Sturgis, S.D. (3.8 seconds); barrel racer Megan Swint, Dunnellon, Fla. (17.57 seconds); and bull rider Denton Fugate, Niangua, Mo. (88 points).
David Fudge, executive director for NebraskalandDays, made a statement regarding the decision to not allow fans for the night's rodeo and the next two nights. "We've been in contact with health officials consistently since March," Fudge wrote. "During the last 10 days those conversations have intensified as we've seen case counts steadily rise. When the risk meter was moved up today it became clear that having fans on site was the wrong decision. No fans will be allowed at the rodeo tonight and through the remainder of the week."
The third night of action at the Buffalo Bill rodeo takes place Friday, August 7. The rodeo starts at 8 pm. The rodeo is televised on the Cowboy Channel and on local radio station KODY 1240 AM.
Fast times/high scores from Thursday's slack and the second performance, Thursday, August 6, 2020 –Buffalo Bill Rodeo, North Platte, Neb.
Bareback riding
Zach Hibler, Wheeler, Texas 84.5 points
Will Martin, Goodwell, Okla. 81;
Tim Murphy, Cleveland, Texas 84
Brian Brown, Labarge, Wyo. 83.
Steer wrestling
Kalane Anders, Bayard, Neb. 4.8 seconds;
Gus Franzen, Kearney, Neb. 4.0;
Nick Guy, Sparta, Wisc. 6.2;
Brody Cleveland, Keystone, Neb. 14.8.
Tie-down roping
Trey Young, Dupree, S.D. 8.9 seconds;
Riley Wakefield, O'Neill, Neb. 11.0;
Hadley McCormick, Scottsbluff, Neb. 16.6
Zane Mikata, Byers, Colo. 14.4.
Saddle bronc riding
Jake Finlay, Goondiwindi, Australia 85.5 points on Beutler and Son Rodeo's Night Latch;
Logan Hay, 78 points;
Ben Anderson, 69;
Tate Thybo, Belle Fourche, S.D. 68.
Breakaway roping
Syerra Christensen, Kennebec, S.D.2.3 seconds;
Katie Mundorf, Mullen, Neb. 2.4;
Alyssa Lockhart, Oelrichs, S.D. 2.6;
(tie) Samantha Jorgenson, Watford City, N.D. and Erin Johnson,  2.7 each.
Team roping
Nelson Wyatt, Clanton, Ala./Levi Lord, Sturgis, S.D. 3.8 seconds;
Andrew Ward, Edmond, Okla./Buddy Hawkins II, Columbus, Kan.  5.0 seconds;
Riley Minor, Ellensburg, Wash./Brady Minor, Ellensburg, Wash. 15.1;
Riley Wakefield, O'Neill, Neb./Cooper Brott, Gothenburg, Neb. 15.2;
Barrel racing
Megan Swint, Dunnellon, Fla. 17.57;
Michelle Darling, Medford, Okla. 17.63;
Emily Miller, Weatherford, Okla. 17.5;
Korrina Lynn Hughes, Glenwood, Iowa 18.06.
Bull riding
Denton Fugate, Niangua, Mo. 88 points on Beutler and Son Rodeo's Roll Tide;
Clayton Sellars, Fruitland Park, Fla. 72;
Trey Kimzey, Strong City, Okla. 69.
No other qualified rides.
** All results are unofficial.
– ### –