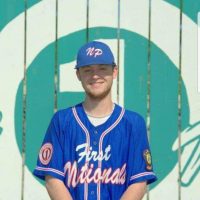 Ty Brockmoller, who coached the North Platte Legion Baseball Seniors in 2019 has resigned. Brockmoller cited personal reasons for his resignation, which leaves the North Platte Legion without a Head Coach and a President after Bob Lindemeier resigned earlier on Thursday.
Brockmoller played for the then First Nationals from 2011-14 and was an assistant coach under Jason Pflughaupt beginning in 2015. He took over the program last year and led the North Platte Seniors to a 13-23 season a year ago.
North Platte is set to begin Legion practice June 1st, per the state guidelines for youth sports and could hold their first game on June 18th. Tryouts will be held on June 1st, which you can register for here.