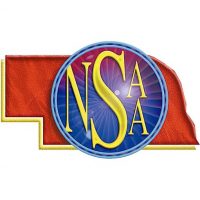 The area was well represented at the 2019 State Track and Field Meet held at Omaha Burke Stadium on Friday and Saturday with gold medals coming home and a few high finishes in the team scores. Leading the area with golds was Mullen, who had Molly Paxton (3200M Run) and Samantha Moore (100M Hurdles) claim first overall. Sutherland's Bennett Floyd won the pole vault in class D and Wallace's Micah Sweberg won the boy's 400 meter dash as well.
The best team finish came from Mullen's girls team who finished in third overall. North Platte Saint Pat's girl's team finished in 7th overall while North Platte High's boys team came in 7th as well.
Full results area available here.
Below is the complete list of area athletes that brought home a medal. (Gold medals are in red)
North Platte
Kaden Ross – 8th – Triple Jump
Elliott Purdy – 3rd – Shot Put; 2nd – Discus
Joseph Larson – 3rd – Discus
Nicolas Davis – 5th – Discus
Kymani Sterling – 2nd – 400 Meter Dash; 5th – 200 Meter Dash
Boys 400 Relay – 7th
North Platte Saint Pat's
Tyler Ferguson – 5th – 800M Run
Kinsey Skillstad – 8th – Discus
Kelsey Folchert – 6th – 3200M Run; 3rd – 1600M Run
Kate Stienike – 5th – 800M Run
Genna Blakely – 6th – 1600M Run
Girl's 3200M Relay – 4th
Girl's 400M Relay – 5th
Girl's 1600M Relay – 8th
Wallace
Micah Swedberg – 1st – 400 Meter Dash; 4th – Long Jump
Sutherland 
Connor Floyd – 1st – Pole Vault
Boy's 400 Relay – 8th
Sandhills-Thedford
Gage Haake – 3rd- 110M Hurdles; 7th – 300M Hurdles
Girl's 400M Relay – 6th
Carlie Collier – 3rd- 100M Dash; 2nd – 200M Dash
Mullen
Lane Edis – 2nd – Long Jump
Trevor Kuncl – 8th – 3200M Run
Molly Paxton – 1st – 3200M Run; 2nd – 1600M Run
Brooke McCully – 7th – 1600M Run
Samantha Moore – 1st – 100M Hurdles; 4th- 300M Hurdles
Girl's 3200M Relay – 7th
Brady
Christian Gentry – 4th – Discus
Bodee Assels – 6th – 200M Dash
Paxton
Boy's 1600M Relay – 7th
Maxwell
Tahjzha Botts – 4th – 800M Run; 7th- 400M Dash