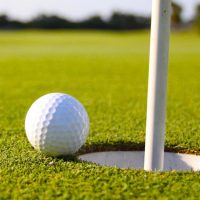 The North Platte golfers had a day in Lexington, rolling to the team title with four in the top ten, including an individual crown. The Bulldogs shot a team total of 313 strokes, well ahead of second place Cozad at 331. McCook was third at 341 strokes with Gothenburg following at 355.
Individually, the banner day continued for North Platte as Senior Drew Phillips edged out Cozad's Adam Cole and teammate Jayden Jones for the title, ending with a 76. Cole and Jones both came in a 77 while North Platte's Tanner Ruda came in fourth at 78. Kasch Morrison finished seventh with an 82. Finn Lucas rounded out the Bulldogs with a 14th place finish at 85.
Full team scores are available here, while total individual scores are available here. A hole-by-hole breakdown is also available here.
The Bulldog golfers  were scheduled to travel to the Hastings Invite on Thursday, however due to weather that has been postponed to a to be determined date. Now next on the schedule is next Tuesday, April 16 at McCook.