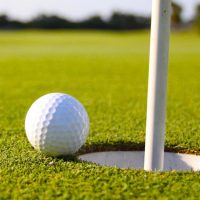 The North Platte Saint Patrick's and Gothenburg golf teams competed in a dual Thursday at River's Edge Golf Course. As a team the Irish led with a score of 189. The Irish JV team shot 225, while Gothenburg split their team of eight players into two teams, shooting 231 and 259.
Individually it was Connor Hasenauer leading the pack with a 44, followed by teammate Teegan Sonneman who finished at 46. Andrew Lindemeier followed with a 49 while Jacob Swift and Samuel Dekleva both shot 50.
Gothenburg was led by Bronson Long and Chris Atteberry, both finishing at 53.
Full individual results from both teams area can be viewed here.