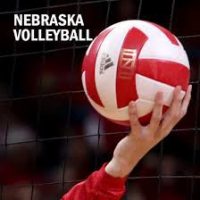 The No. 7 Nebraska volleyball team rallied from an 0-2 hole to topple No. 14 Creighton, 3-2 (22-25, 19-25, 25-18, 25-22, 15-10), Thursday night in front of a crowd of 14,022 at CHI Health Center Omaha. It was an NCAA record for a women's volleyball regular-season match.  
Mikaela Foecke had a career-high 25 kills on .351 hitting with 13 digs, five blocks and four service aces to ignite the Huskers (5-1) after a tough start to the match. Freshman Capri Davis had a career-high 18 kills, and Jazz Sweet added 12 kills on .323 hitting for the Big Red.
Creighton (4-3) won the first set for the third time in the last four meetings between the teams. Unlike the other two times, though, the Bluejays won the second set as well to take a 2-0 lead into intermission. 
The Huskers were sharp in set three, leading throughout to earn a 25-18 win and extend the match. NU used an early run to gain separation in set four and held off the Jays for a 25-22 win. In set five, Foecke accounted for nine of NU's 15 points, and she ended the match with her new career high in kills, 25, the most by a Husker since Kelsey Robinson in 2013.
After dropping the first two sets, the Huskers only trailed for one rally the rest of the match. Nebraska won 3-2 over a top-15 opponent on the road after trailing 0-2 for the first time since at No. 1 Penn State on Oct. 2, 2015.
Freshman setter Nicklin Hames had a career-best 56 assists with 11 digs, and Kenzie Maloney had a career-high 25 digs. 
Nebraska had a .258 to .207 edge in hitting and out-aced the Jays, 10-6. Megan Miller had three aces to go with Foecke's four. Maloney also had a pair of aces. 
Set 1: Davis posted three early kills, but Creighton got six kills on its first seven swings to go ahead 7-6. Callie Schwarzenbach got a kill and then set Foecke for a kill on her first swing of the night to make it 8-7 Huskers. A stuff by Schwarzenbach and Sweet, followed by another kill by Davis and back-to-back Creighton errors gave the Huskers a 13-9 lead. Creighton strung together a three-point spurt to pull within 14-13, and the Bluejays took a 17-16 lead after an ace by Kloth and kill by Jaela Zimmerman. Foecke sided out for the Huskers, but the Jays scored the next two to go up 19-17. Sweet terminated to pull NU within one, but a service error restored Creighton's two-point advantage. Sweet got another kill, and Davis added her fifth to even the score at 20-20. The Jays held tough, though, scoring the next two points to regain a 22-20 lead. After a timeout, Sweet connected again from the right side, but the Bluejays gained set point at 24-22 and clinched the set on the next rally as Kloth connected for the eighth time on 10 swings. 
Set 2: Creighton claimed the early advantage with a 4-1 start to set two. Foecke got the Huskers back in it with a pair of kills and an ace. But the Jays rattled off a 3-0 run to make it 7-4. The Bluejays later went on a 7-0 run to go up 15-7. Creighton built its lead to 19-11 before a Davis kill, a Maloney ace and a Sweet kill trimmed the lead to five at 19-14. The closest the Huskers could get the rest of the way was four points, as Creighton took the 2-0 lead with a 25-19 win. 
Set 3: Miller sparked the Huskers with a pair of ace serves to help NU to a 4-0 lead. Creighton took a timeout as the Huskers went ahead 6-1 for their biggest lead of the match to that point. Creighton got within three at 10-7, but back-to-back blocks by the Huskers put NU back up by five, 12-7. The teams traded sideouts for four rallies before a CU hitting error and solo block by Foecke made it 16-9 Huskers. Another block by the Big Red, this one by Foecke and Schwarzenbach, increased the lead to 17-9. Davis' 12th kill of the night capped a long rally, and Foecke blasted out of the back row before Sweet tipped a kill to the floor to make it 21-13. After the Jays scored twice, Sweet and Foecke produced kills for a 23-15 lead, and a Miller ace – her third of the set – ended it at 25-18. The Huskers limited Creighton to .023 hitting in set three. 
Set 4: A pair of kills by Foecke and one by Sweet, combined with back-to-back CU hitting errors lifted Nebraska to an 8-3 lead. The Bluejays chipped away to within 11-9, but the Huskers answered with the next two points and went up 16-10 after a Lauren Stivrins ace. The Bluejays sliced the deficit to three at 17-14, forcing a Husker timeout. After the timeout, Creighton served long and then hit into the net, and Foecke served the Huskers' seventh ace to restore a six-point lead, 20-14. But Creighton came right back with another 3-0 run of its own before Davis ended the run with a kill to make it 21-17. The lead shrunk to two, 21-19, before Davis sided out once again to keep NU ahead by three. With a 22-20 lead, a huge dig by Davis, followed by the freshman's 16th kill of the night, made it 23-20. Foecke followed on the next rally with her 19th kill for set point at 24-20. The Jays fought off two set points, but Foecke sealed the 25-22 win with her 20th kill, setting up the first-ever fifth set between the schools.
Set 5: Foecke tooled a block to begin the set, and her next kill made it 3-1 Big Red. Davis connected twice more to boost the Huskers to a 5-3 advantage. Hames saved a ball from going into the scorer's table, and Foecke and Stivrins finished that rally with a block before Foecke's career-high 23rd kill gave NU an 8-5 lead as the teams switched sides. After the break, Foecke and Schwarzenbach stuffed a Creighton attack to make it 9-5. The Jays fought back to within one, 10-9, after a block, but Foecke's 25th kill made it 11-9. The All-American then served back-to-back aces for a 13-9 Husker advantage. Creighton went into the net to give NU four match points at 14-10, but they only needed one as Maloney served an ace to clinch the match.
Up Next: The Huskers are back at home on Sunday to face Iowa State at 1 p.m. NU will retire Sarah Pavan's jersey after the match. Catch the game on The Hawk 98.5