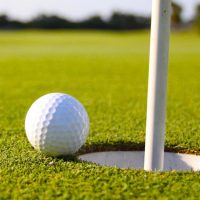 The North Platte Bulldog's second team took first at the St Pat's Golf Invite at River's Edge on Friday, finishing 34 strokes ahead of second place Hershey. The Bulldog's finished with 324 team strokes, besting the Panthers who had 358. Sutherland came in 3rd with 368.
Individually, North Platte took the top three places with Tanner Ruda and Drew Phillips both shooting a 79, followed by Kasch Morrison who had an 82. Hershey's Nolan Benjamin also shot an 82, with Finn Lucas rounding out the top five with a 84. St Pat's was led by Tyler Heiss who shot a 86, good for 7th while Paxton's Jeremy Peters earned 9th with an 86.
Full team and individual results are available here.