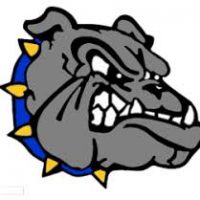 The North Platte Bulldog's track and field teams competed at the GNAC Track and Field meet in McCook Thursday, finishing in 8th and 6th on the girl's and  boy's sides respectively. Kearney won both team titles, besting anyone on the girl's side by nearly 170 points. Lexington girls were second while McCook boys finished behind Kearney.
Individually, the Bulldogs were once again led by the throwers as Joey Larson took home the lone individual title, winning the boy's discus throw with a toss of 167-00. He bested teammate Elliott Purdy by inches, who threw 166-07, good for second overall. The combo went 3-4 in the shot put as well, with Larson throwing it 52-05 for third and Purdy at 51-4.50 for fourth.
Full results of the meet are available here.
That wraps up the regular season as the North Platte Track and Field teams will compete at Districts this coming Wednesday, May 9th at Grand Island.