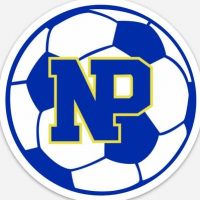 The North Platte Bulldog's soccer teams both earned the top seed at their respective districts for postseason play. Not only that, but North Platte will play host to both district tournaments with girls play starting on Monday, April 30th and boys beginning on May 1st.
For girls, North Platte (9-3) will open the four-team tourney on Monday against #4 Fremont (5-9) at 5:00 CT at North Platte High School. The two teams have not met yet this season. #3 Lincoln High (6-8) and #2 Lincoln Pius X (6-6) will be the second game Monday. The final for the girl's district will be played on Wednesday, May 2nd at 7:00 CT with the winner advancing to the State Tournament in Creighton.
The North Platte boy's soccer team also grabbed the top seed and will face #4 Norfolk (3-10) on Tuesday, May 1st at North Platte High School. The two teams have met twice already this season, with the Bulldogs winning both on April 7th at the GNAC Tourney 1-0 in a shootout and again on April 24th in Norfolk 1-0. The second semifinal game is #3 Papillion-La Vista (3-10) against #2 Lincoln North Star (10-5). The District Final will be played on Thursday, May 3rd at 7:00 CT with the winner moving on to state.
The full brackets are available below or also via the NSAA's website here: boys/girls
Girls Soccer District A-6 at North Platte High School
#1 North Platte 43.0000 (9-3)
04/30/2018
5:00 PM CT
#4 Fremont 37.3571 (5-9)
#3 Lincoln High 39.0000 (6-8)
04/30/2018
7:00 PM CT
#2 Lincoln Pius X 42.0000 (6-6)
Boys Soccer District A-7 at North Platte High School
#1 North Platte 43.0769 (10-3)
05/01/2018
5:00 PM CT
#4 Norfolk 37.8462 (3-10)
#3 Papillion-LaVista 38.0769 (3-10)
05/01/2018
7:00 PM CT
#2 Lincoln North Star 42.5333 (10-5)