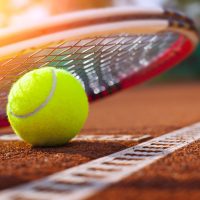 The North Platte Lady Bulldog's tennis team competed against Lexington and Ogallala at a home triangular at Cody Park, falling to both by scores of 8-1 and 7-2, respectively.
Against Lexington the lone win for the Lady Bulldogs was Anam Vaziri over Brooke Speer 8-4 in singles action. Katrina Webster and Codi Guerrieri both picked up singles wins against Ogallala, each 8-1.
The next action for the North Platte girl's tennis team comes this Saturday as they'll travel for the Scottsbluff Invite.
Full results of the triangular are below:
North Platte v Lexington
Singles:
Katrina Webster v Brylee Lauby (8-2 Lauby)
Codi Guerrieri v Mallorie Buescher (8-1 Buescher)
Anam Vaziri v Brooke Speer (8-4 Vaziri)
Hannah Nelson v Theresa Aguirre (8-3 Aguirre)
Anniston Manzano v Darylyn Gonzalez (8-6 Gonzalez)
Courtney Becker v Aileen Reynosa (8-6 Reynosa)
Doubles:
Uppal/Vaziri v Aguirre/Speer (8-2 Aguirre/Speer)
Nelson/Becker v Gonzalez/Reynosa (9-8 [7-3] Gonzalez/Reynosa)
Webster/Manzano v Lauby/Buescher (8-4 Lauby/Buescher)
North Platte v Ogallala
Singles:
Katrina Webster v Maddie Ketham (8-1 Webster)
Codi Guerrieri v Payton Stewart (8-1 Guerrieri)
Anam Vaziri v Kira Mestl (8-2 Mestl)
Hannah Nelson v Lily Fair (8-0 Fair)
Anniston Manzano v Maddie Mendoza (8-3 Mendoza)
Courtney Becker v Keyana Hastings (8-4 Hastings)
Doubles:
Uppal/Vaziri v Fair/Mendoza (8-4 Fair/Mendoza)
Nelson/Becker v Mestl/Hastings (8-1 Mestl/Hastings)
Webster/Manzano v Stewart/Ketham (8-4 Stewart/Ketham)