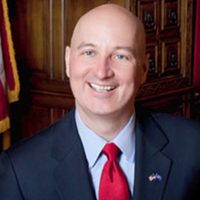 Governor Pete Ricketts urges state lawmakers to approve his tax cut proposal in the final days of the legislative session.
And, the governor says the discussion won't end once the bill is passed. Ricketts says the legislature eventually needs to address the school funding formula and its heavy reliance on the property tax.
Ricketts has picked up the endorsement of the Nebraska Farm Bureau as well as various business groups for his tax cut plan.