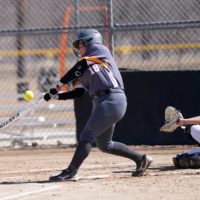 North Platte, Neb.  – North Platte Community College split its first home doubleheader of the season Wednesday. The Knights won their initial game against Southeast Community College 15-7 and dropped the second 12-10.
North Platte grabbed an early lead in the first game, scoring on a double by Gwen Anderson and home runs by Nancy Martinez and Angelina Lockhart in the first inning.
NPCC smacked a total of four home runs on the day. Elena Montoya and Anderson both went deep in the second inning, and Anderson added a single in the fourth and double in the fifth.
Sasha Strandberg started out in the circle for North Platte. The righthander surrendered seven runs on nine hits over four innings, striking out six and walking one.
Altogether, the Knights racked up 22 hits in the game. Montoya and Anderson each collected four. Martinez, Lockhart, Taelyn Dakamas, April Grace, Amya Blake-Cosper and Krysta-Lyn Lewis managed multiples as well.
The Storm got off to an early lead in the second game. The Knights fought back in the final innings but were unable to erase an eight-run deficit.
North Platte put up 17 hits and six runs in the failed comeback – five of the runs were in the seventh inning. Lewis, Grace, Blake-Cosper and Kelsey Woodhouse fueled the rally with RBIs. Woodhouse went yard in the third inning, and Anderson had a homer in the fifth.
Dakamas was on the rubber for the Knights. She surrendered seven runs on eight hits over three and two-thirds innings, striking out one. Lockhart and Jenelle Gudjonson entered the game from the bullpen, throwing three and one-third innings, respectively.
"We played relaxed and our game in the first game," said Janelle Higgins, NPCC head softball coach. "Game two, we fell back into the 'trying not to lose' mentality, but fought back just a little too late. [Dakamas] got drilled, and we had to throw Jenelle in to pitch in a rough situation. They had already seen her in game one, but she did her job and got us out of the inning."
Higgins said it was wonderful to be able to play outside on dirt and on the home field.
"We played all our previous games on turf, and eight games inside, so being able to be outside on dirt was great," Higgins said. "Now if we can play more than two games every 10 days, this team would really be rocking. We ate halfway through our season and have canceled over a third of our games. That's tough on these kids. They are fighting an uphill battle, but they are fighting and that's all we can ask of them. I'm very proud and excited of what they showed today. Now back indoors we go to fix some little things."
Wednesday's games increased the Knights' record to 2-10 on the season.
They will return to the action March 25 when they take on Northeastern Junior College in Sterling, Colo. They are scheduled to play a doubleheader beginning at 3 p.m.
The most up-to-date information about NPCC athletics can be found on the Knights Facebook and Twitter accounts and online at npccknights.com.