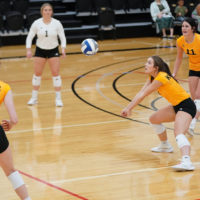 The North Platte Community College volleyball team will host the opening round of the National Junior College Athletic Association Region IX Postseason Tournament this week against Southeast Community College.  First serve is at 6 p.m. Wednesday in the McDonald-Belton Gymnasium on the NPCC South Campus, 601 W. State Farm Rd, according to a press release from Mid-Plains Community College.
"I like our matchup against Southeast, and I'm glad that we get to host that opening round game," said NPCC Volleyball Head Coach Alexa McCall. "We have a great facility, and the community and college support is always appreciated. We would love to have everyone cheer the Knights on for this game." NPCC enters postseason play sporting a 7-26 overall record and 1-3 record in Region IX action. Southeast (9-27) also concluded the regular season with a region record of 1-3 but lost the tie-breaker, making them the third seed in the postseason tournament. Morgan Ramsey, a sophomore outside hitter, leads the region this season with 3.47 kills per set, while ranking second overall in total kills with 371. Her teammate, Emily Johnson, is fourth in the region averaging almost one block per set.
The Knights' Whitney Chintala ranks third in digs per set with 3.65, while teammate Tessa Metschke is fifth with 2.84. Freshman Avah Steggall heads into postseason play ranked third in the region in assists per set – with 6.38. "We have a great opportunity, and I think the team is excited to get another chance at Southeast and then hopefully against Central," McCall said. "We have talked all year about how winning games isn't easy, and I want this to be the team that works the hardest and leaves everything out there because anything can happen at this point. We are ready for postseason, and I'm excited to see the things we accomplish, because I believe our work isn't done."
The winner of the opening round will advance to the championship against Central Community College at 3 p.m. Oct. 29 in Columbus. Those unable to attend the game in person can view a livestream at npccknights.com.