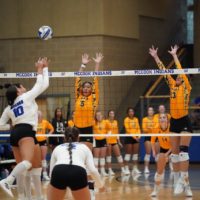 The North Platte Community College volleyball team lost in five sets against rival McCook Community College. The final score for the first set saw McCook with the lead at 25-18. The Knights tied the game in a back-and-forth second set with a final score of 25-23.  In set three the Knights overcame McCook with a final score of 25-21.  McCook took the game score back to a tie in a hard-fought set four with a score of 29-27.  Set five was won by McCook with a final score of 15-8. Sophomore Morgan Ramsey lead the game with 22 kills, 3 aces and 13 digs. Freshmen Tyrah Woods and Emily Johnson both contributed 8 kills. Karley Spillane (So.) followed with seven kills. Freshman Whitney Chintala had 21 digs and 2 aces, while Freshman Avah Stegall achieved 40 assists and 13 digs.
Amauri Browning (Fr.) had 14 digs while Tessa Metschke (So.) had 13 digs.   "There's no denying that we're in a tough spot and going into a tough weekend," said head coach Alexa McCall. "We have to continue to work together as a team and not fall apart because that's the easy option."  "We took a step in the right direction tonight" McCall says of the Knights win in sets two and three. "[We] just have to continue to build and trust the process. I thought we served really well tonight and were able to make them work in serve receive."  This puts the team at 5-11 on the season. McCook is up to 12-6 on the season.
Up Next: The Knights will travel to McPherson, Kan. to play McPherson College JV team at 5 p.m. on Friday Sept. 23.   Saturday Sept. 24 NPCC volleyball will play in Overland Park, Kan. at 10 a.m. against Kansas City Kansas Community College, and at 12 p.m. against Johnson County Community College.