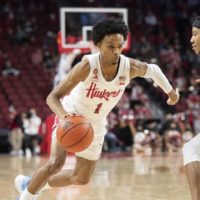 The Nebraska men's basketball team held Indiana to a season-low in points Saturday, but the Hoosiers overcame an early 10-point deficit and rallied for a 68-55 win at Assembly Hall. The strong defensive effort was not enough to overcome a cold shooting performance for a Husker team playing its second road game in four days following a four-overtime loss at NC State on Wednesday. Nebraska shot 38 percent for the game, its second-lowest total of the season, and the Huskers were just 5-of-22 from the 3-point line.
Nebraska held Indiana to its lowest shooting percentage of the season (40 percent), but the Hoosiers had 10 more points off turnovers than the Huskers, even though Nebraska committed fewer turnovers. Despite holding Indiana nearly 15 points below its season scoring average, the Huskers fell to 5-4 overall and dropped to 0-1 in Big Ten Conference play. The Hoosiers improved to 7-1 and 1-0 within the conference. Alonzo Verge Jr. had 15 points, five rebounds and three assists, leading Nebraska in all three categories. Verge scored nine of his 15 points in the second half. Bryce McGowens scored eight points and matched Verge with five rebounds, while Derrick Walker also added eight points and Kobe Webster scored seven points.
Trayce Jackson-Davis led Indiana with 14 points, eight below his season average. Tamar Bates (13) and Race Thompson (11) also scored in double figures, with Thompson adding a game-high 11 rebounds for a double-double. The first half featured extended runs by both teams. Nebraska built a 10-point lead with a 14-2 run over eight minutes, and Indiana responded with a 17-4 run over six minutes to take a three-point lead. Indiana led 2-0 one minute into the game before the Huskers' 14-2 run. Nebraska's defense forced five turnovers during the run, limited Indiana to 1-of-10 shooting and held the Hoosiers scoreless for more than four minutes. Offensively, McGowens had six points during the run, Verge added four points and Walker and Keisei Tominaga each chipped in two points.
The Huskers led by 10 with 11 minutes remaining in the half before the Hoosiers went on their run. Nebraska went more three minutes without scoring, and Indiana took advantage with a 7-0 run that closed the gap to 16-13. Two minutes later, Indiana used another 7-0 run to grab a 23-20 lead and force a Husker timeout with 4:10 remaining in the half. Nebraska got as close as one late in the half but went into the locker room trailing 26-22 after scoring only two points in the final 6:32 of the first half and just eight points in the final 13:25. The Huskers shot only 30 percent (9-of-30) in the half, including just 1-of-10 from the 3-point line. Indiana shot just 37 percent (11-of-30), but the Hoosiers knocked down four 3-pointers. McGowens paced Nebraska with eight first-half points.
The Huskers scored 12 seconds into the second half, but Indiana answered with five points in only 10 seconds to quickly stretch the lead to seven. The Hoosier lead remained between six and eight points until a 7-0 run – Indiana's third 7-0 run of the game – gave IU a 43-30 lead with 14 minutes to play. Six straight points pulled Nebraska to within seven with 12 minutes remaining. But Indiana responded with an 8-0 over the next two minutes, stretching the lead to 15. The Huskers would not go away, as C.J. Wilcher capped a 7-0 run with a 3-pointer that pulled Nebraska back to within seven with six minutes left. But Nebraska could get no closer than seven. Following the Husker run, Indiana scored 10 of the next 13 points to build a 63-49 lead with three minutes to play. Nebraska hit a trio of 3-pointers over the final five minutes, but it was not enough to erase the deficit.
Following two straight road games, Nebraska returns home to host Michigan on Tuesday at Pinnacle Bank Arena. Tipoff is set for 6 p.m. and the game will be televised on ESPN2 with radio coverage on the Huskers Radio Network.
Nebraska Postgame Notes
Nebraska falls to 7-17 all-time against Indiana, including 3-8 all-time in Assembly Hall.
Nebraska held Indiana to its lowest scoring output of the season (also 68 vs. Eastern Michigan).
Nebraska held Indiana to a season-low 40.4 percent shooting from the field.
The Huskers were held to a season-low 55 points, including 5-of-22 from 3-point range.
Alonzo Verge Jr. finished in double figures for the eighth time in nine games as he finished with a team-high 15 points.
Derrick Walker hit 4-of-5 shots from the floor and is now 34-of-40 over the six games.
Nebraska held Indiana to 26 first-half points, its lowest first-half total of the year (previous low, 34 vs. Jackson State).
Nebraska has opened Big Ten play against Indiana four times, including three times in Bloomington.
Keisei Tominaga made his first career start on Saturday, marking the fourth different lineup Nebraska has used this season.