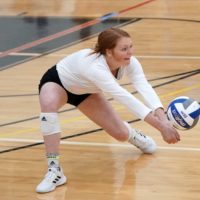 The North Platte Community College Knights split their volleyball games in Kansas Saturday. They dropped the first match against Dodge City Community College after pushing the Conquistadors to five sets. Scores were: 20-25, 25-22, 17-25, 25-22 and 16-18. Morgan Ramsey, of Bartlett, led the attack with 21 kills. Her teammate, Kim Krise, of Briggsdale, Colo., recorded 19 kills and 11 digs.
Allie Schneider, of Humphrey, tallied 49 assists and five aces, and Katy Bartell, of Eustis, finished with 12 digs. The Knights then bounced back to sweep their match against Trinidad State Junior College: 25-18, 25-18 and 25-20. Ramsey had 14 kills in that match. Schneider contributed 29 assists and Krise and Avery Johnson, of Hayes Center, had six and five kills, respectively.
"We had a tough break in the first game against a team that is playing really well right now," said NPCC Head Volleyball Coach Alexa McCall. "I was pleased that we came in on the second game and won in three. We have a big week coming up and hope to continue our growth." The Knights are now 11-8 on the season. The games in Dodge City kicked off another string of road games for the Knights. They are up Tuesday in Columbus, where they will take on the Central Community College Raiders at 6 p.m.