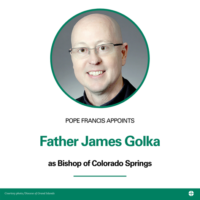 Pope Francis appointed Father James Golka as the next Bishop of the Diocese of Colorado Springs, Colorado. In an interview with Huskeradio's Tristen Winder Bishop Elect Golka discussed the process of accepting this unique appointment.
Bishop-Elect Golka formerly served as Pastor of St. Patrick's Catholic Church in North Platte from 2006 – 2016. Since 2016  Bishop-Elect Golka has served as the Rector of the Cathedral of the Nativity of the Blessed Virgin Mary in Grand Island. Bishop-Elect Golka's ordination will mark the first time a Priest from the Grand Island Diocese will be installed as a Bishop in their rich 110-year history.
Bishop-Elect Golka will be just the third Bishop of the  Diocese of Colorado Springs.
Bishop-Elect Golka believes his time serving in North Platte will greatly help him in his new role.
The original story on Bishop Elect Golka's appointment can be found by using the link provided below:
A Longtime North Platte Priest has been Appointed Bishop of Colorado Springs