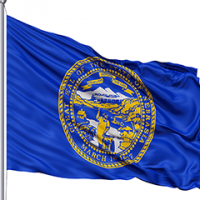 Nebraska launched a federally funded aid program Monday for renters and landlords who have lost income due to the pandemic, but residents of the state's two largest counties won't be eligible. The program managed by the Nebraska Investment Finance Authority offers a maximum of 15 months of rental or mortgage assistance per applicant, up to $20,000.
State officials said it's only available to tenants who make 80% or less of their county's median income, and who can show they're unable to pay rent because of a financial hardship caused by the pandemic or they're at risk of becoming homeless. "It's our commitment to quickly communicate the availability and guidelines of this program those who are most in need," Shannon Harner, director of the Nebraska Investment Finance Authority, said at a news conference with Gov. Pete Ricketts.
Harner said residents of Douglas and Lancaster counties, which are home to Omaha and Lincoln, aren't ineligible because their local governments have their own programs that won't launch until early March. Money for the program comes from a $25 billion federal assistance program that Congress approved in December. Ricketts said Nebraska received $200 million, with $158 million going to the state and the rest going to Douglas and Lancaster counties and the city governments of Omaha and Lincoln. Ricketts said the state will step in to cover the costs for those residents if their local governments exhaust their share of the money.
Harner said the state's program will cover the cost of utilities for renters, dating as far back as April 1, 2020. Landlords who have already evicted their tenants for not paying rent aren't eligible. Harner said the state is also launching a call center to accommodate applications at 833-500-8810. Meanwhile, Nebraska officials are watching for variants of the coronavirus by sequencing the entire genome of samples of the virus.
Peter Iwen, the director of Nebraska's Public Health Laboratory, said the detailed tests performed each week help scientists identify mutations of the virus and track how they affect the spread of COVID-19 in the state. So far, the lab hasn't identified either of the main virus variants that were first identified in the United Kingdom and in South Africa in the state. But the researchers have found two other mutations that may affect the virus' ability to cause infections and severe symptoms, according to the Omaha World-Herald.