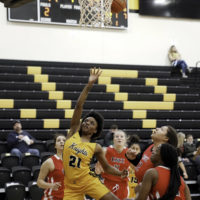 Knights rally falls short as Spartans prevail at the McDonald-Belton Gymnasium on Tuesday afternoon, 66-60. Down thirteen entering the fourth quarter the Knights cut the deficit to eight as Kanesha Hall drove past her defender and laid it off the glass with 5:24 to play, 59-51. Hall's layup sparked a 9-3 run that was capped by an Amber Wolever three pointer that brought the Knights within two in the closing minutes.
As the intensity picked up so did the defense as neither offense was able to find any good looks at the basket over the next 60 seconds. Inside a minute to play, the Spartans stretched their lead to five after connecting on a contested three-point shot, 65-60. In the closing seconds, the Knights had looks from deep but couldn't get any of their attempts to fall, sealing the victory for the visiting Spartans.  In the opening quarter, the Spartans offense rushed out to a five-point lead in the opening five minutes of play. Diamond Moore-Heath cut into the Spartans lead after connecting on a second chance opportunity narrowing the Spartans lead to three, 8-5.
The Knights recaptured the lead momentarily under a minute to play in the quarter as Moore-Heath was able to connect on a pair of free throws, 10-9. The Spartans offense went back to work in the closing minute and were able to mount a small run that gave them the 14-10 advantage after one quarter. The Spartans run continued into second quarter as they increased their lead to nine over the first five minutes. NPCC battled back and were able to cut the deficit to six at the break, 28-22.
Jordyn Moon provided a spark for the Knights in the third quarter cutting the Spartans lead to four with 3:35 to play, 41-37. Spartans answered offensively closing the quarter on a 12-3 run and taking a 53-40 lead into the fourth quarter. Janay Brauer, Amber Wolever, and Kayla Pope each had 11 points on the afternoon. Moore-Heath led the Knights on the glass, grabbing seven boards to go along with her seven points.
The Knights fall to 1-4 overall on the year and will hit the road this weekend for back-to-back road games beginning on Saturday, Feb. 6 against North Central Missouri College. Tip is set for 3:00 p.m. in Trenton, Mo.