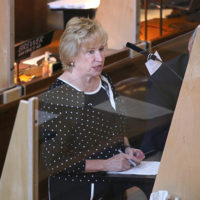 Nebraska State Senator Lou Ann Linehan, who chairs the Legislature's Revenue Committee, applauds the Tax Foundation's report, "Thirteen Priorities for Pro-Growth Tax Modernization in Nebraska." The report makes clear that Nebraska is falling behind in the race to modernize our tax code. Unfortunately, the lack of modernization leaves Nebraska dependent on business incentives that benefit only a small percentage of Nebraska's businesses, and on a Rubik's Cube of property tax fixes that do nothing to control our ever increasing appetite for local revenue. We must modernize our tax system.
Several bills that will be heard by the Revenue Committee over the next 30 days address many of the reforms suggested by the Tax Foundation.  The report calls for:
A stricter levy limit – this could be done by passing the Governor's LR 22 CA or Senator Briese's LB408;
Enhancing transparency surrounding property tax increases – this could be accomplished by passing Senator Ben Hansen's LB644;
Nebraska tax policy should prioritize exempting Global Intangible Low Taxed Income (GILTI) from the corporate tax base – this could be accomplished by passing Senator Lindstrom's LB347; and
Phasing out our inheritance tax – this could be accomplished under Senator Clement's LB310.
The report concludes that Nebraska's Corporate Income Tax Rate is higher than only 14 other states and the District of Columbia, making Nebraska reliant on a business incentive program that picks winners and losers. We need to move away from that model.  Senator Linehan's LB680 starts this process by lowering the top corporate rate to match the top individual rate to create parity.  Most businesses today are pass-through entities whose members pay at the individual income tax rate, not the corporate rate.
In addition, the report states the top 10% of income taxpayers pay 56% of the states' income taxes. If we do not correct this imbalance, these high income tax earners will flee to any of the other 35 states with a more friendly tax structure. Finally, the report, as all other studies have shown, points to the need to broaden our sales tax base and lower rates. Tomorrow, the Revenue Committee will hear Senator Briese's LB422 and Senator Erdman's LB133 and LR 11 CA, which do exactly that.