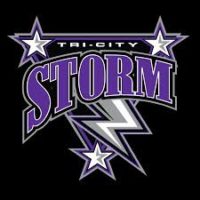 The Tri-City Storm defeated the Omaha Lancers by a final score of 5-2 Thursday night at Ralston Arena. Mark Estapa (2), Matthew Knies, Carter Mazur, and Vinny Borgesi all scored in the Storm's win. Grant Riley recorded the win in net for Tri-City. The Storm returns home on Saturday for a Halloween night game against the Lincoln Stars. Tickets can be purchased online at www.StormHockey.com or by calling 308-338-8144.
Mark Estapa gave Tri-City a 1-0 lead at 5:22 of the 1st period on a goal assisted by Cole McWard. At 7:54 of the period, Matthew Knies scored his first goal of the Corn Cup. The goal gave Tri-City a two-goal lead and was assisted by Cole McWard and Kyle Aucoin. Following the Storm's first two goals of the game, the Lancers answered with two goals in the final five minutes of the 1st period. Alex Gaffney scored his second goal of the Corn Cup at 15:31 of the 1st period to put the Lancers on the scoreboard. With 15 seconds left to play in the 1st period, Ryan Lautenbach tied the game on a goal assisted by Tyler Carpenter and Garret Wright. Omaha outshot the Storm 13-7 in the 1st period and the game entered the 2nd period in a 2-2 tie. There were no goals scored in the 2nd period and the Lancers outshot the Storm 7-4.
Carter Mazur scored the Storm's first goal in the 3rd period at 11:56. Mark Estapa and Vinny Borgesi provided the assists for the goal. With less than three minutes to play in the game, Vinny Borgesi netted his 2nd goal of the 2020 Corn Cup to give Tri-City a 4-2 lead. Borgesi's goal was assisted by Adam Klapka. With 17 seconds left in the game, Mark Estapa scored an empty net goal to give Tri-City a 5-2 win. Mike Posma assisted on the goal. Tri-City outshot Omaha 7-2 in the 3rd period and completed a perfect 3-0 record against the Lancers in the Corn Cup.
The Storm return to action on Saturday, October 31st in a home game against the Lincoln Stars. For the latest information regarding the Tri-City Storm, including tickets to the next home game, visit www.StormHockey.com