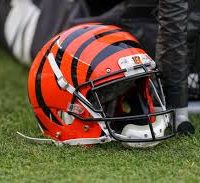 A pair of former Huskers were signed to the Cincinnati Bengals practice squad on Sunday afternoon.  Former Husker wide receiver Stanley Morgan was signed to the practice squad. Morgan signed with the Bengals as an undrafted free agent last offseason, but was elevated to the active roster in the middle of the season. 
The 6-foot, 205-pound Morgan appeared in 11 games overall last season for the Bengals as a rookie. He played 143 snaps on offense and 177 snaps on special teams, while making three catches for 18 yards last season.  Former Husker defensive end Freedom Akinmoladun was also signed to the Bengals' practice squad. Akinmoladun signed with the New York Giants as an undrafted free agent last season, but was waived and signed with Cincinnati midway through the year. 
Akinmoladun was added to the Bengals' active roster in the final few weeks of the season and appeared in two of the team's final three games as a rookie. Akinmoladun totaled two defensive snaps and four special teams snaps in those games and did not record a tackle.  Both players were released by the Bengals on Saturday afternoon as NFL teams cut their active rosters to 53 players. Teams could begin adding players to their practice squad rosters at noon CT on Sunday. In addition to the pair of Huskers who have signed with the Bengals, former Nebraska corner Lamar Jackson and former Nebraska defensive lineman Darrion Daniels have been added to practice squads. 
Jackson was signed to the New York Jets' practice squad and Daniels was added to the San Francisco 49ers squad.  The Bengals coaching staff has a fair amount of Nebraska flavor, as well. The team is coached by former Nebraska quarterback Zac Taylor, and former Nebraska wide receivers coach Troy Walters joined the franchise in the offseason as an assistant wide receivers coach. Former Nebraska tight end Cethan Carter is also on the Bengals' active roster.