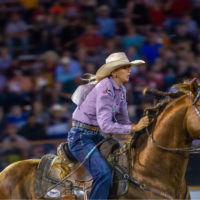 For three year, Austin Foss has dominated the bareback riding at the Buffalo Bill Rodeo in North Platte, and he's hoping for a fourth title. The Terrebonne, Oregon man has won the bareback riding at the Buffalo Bill Rodeo in North Platte three consecutive years (2017-2019) and returns this year to defend his title. Last year, he rode the Beutler and Son Rodeo Co. horse Foxy Lady for 89 points. The four-time National Finals Qualifier broke the arena record of 88 points, set four times (2013, 2012, 2004, and 1997).
COVID-19 has crippled the rodeo season for many, including Foss, who ranches in central Oregon. He's spent the four months without competition removing juniper trees on a neighbor's ranch. The non-native trees "are such a nuisance," he said. "They suck up water, like a sponge. The more you get rid of, the more water is returned to the ground."  Foss finished the 2019 season with a shoulder injury, breaking the AC joint in the right shoulder, on his riding hand. It didn't require surgery, he's completed rehab and it's back to nearly as good as new.
Another Buffalo Bill Rodeo champion returns to defend her title. Barrel racer Shali Lord, Lamar, Colo., turned the cloverleaf pattern in 17.44 seconds to take home the gold buckle. Her horse, Can Man, "loves that rodeo," she said, so she'll ride him again this year. At the set-up in North Platte, fans are close to the arena, only about thirty feet from the second barrel, Lord estimates, and Can Man enjoys the crowd. "The grandstands are right there, close to the barrel, and he loves that. When there's the crowd and the music, I can tell he's excited to run. He loves his job, he loves what he does."
During the COVID-19 rodeo shutdown, life didn't change much for Shali and her husband Phy, who ranch. Ranch work didn't slow down, but Lord traveled less for rodeos, so she and their children, son, Slade, and daughter, Stealy, enjoyed their time together. "We did a lot of fun things outside. We did trail rides and looked for crawdads and went fishing." Rodeo competition is also different this year, Lord said. With fewer rodeos, cowboys and cowgirls are entering all of them, making for more entries and tougher competition. "Everything is so far apart," Lord said, referring to the rodeos. "Normally you can go to three or four rodeos in a weekend and they're closer together. This year, everything is so far apart and we're zig-zagging to get to them."
Lord rode Can Man, whose registered name is Freckles Ta Fame, at the 2019 National Finals Rodeo, where she finished the season in ninth place in the world. Can Man is owned by Spitz Quarter Horses of Lamar. Lord won third place at the 2015 Buffalo Bill Rodeo, also aboard Can Man.  Other cowboys returning to defend their 2019 titles include team ropers and brothers Kellan and Carson Johnson, Gillette, Wyo., and bull rider Parker Breding, Edgar, Montana.
More than 600 contestants are entered for the Buffalo Bill Rodeo, which takes place August 5-8 in North Platte. Performances are at 8 pm nightly and all tickets are general admission, to allow for social distancing. Tickets, which are $15 each, can be purchased online at www.NebraskalandDays.com and at the gate.  For more information, visit the website or call 308.532.7939.