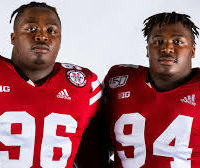 The Davis brothers keep insisting they're ready to be apart. Sure, Khalil and Carlos Davis lived together all five years at Nebraska. Yes, they have mostly the same friends. And yes, they have thus far spent exactly one week apart: last year, for spring break. But as identical twins who had the same discipline in track and field (shot put) and played the same position in football (defensive line), they have told anyone who'd listen that they're ready to go their own ways, make their own names and build their own identities.
So then, when Khalil was drafted with the No. 194 overall pick in the sixth round by the Tampa Bay Buccaneers in April's NFL draft, why did he remain sitting quietly on the family couch in Blue Springs, Missouri? Where was the jumping around and outsized elation fitting for a 6-foot-1, 308-pound lineman picked to be five-time Pro Bowler Ndamakong Suh's understudy? "Oh, Khalil was happy, but not completely," said Tracy, the twins' mother. "He couldn't be as happy if his brother wasn't drafted."
Thankfully, 38 picks later at No. 232 overall, the Pittsburgh Steelers saved the day. Head coach Mike Tomlin called Carlos, and Khalil was finally able to whoop how he wanted to. Because, really, separate identities are all good and fine as long as both identities include: player, National Football League.
According to NFL Network the Davises now become the fifth set of twins in the NFL. The Pounceys (the Steelers' Maurkice and Chargers' Mike) have the most Pro Bowls. The McCourtys (Devin and Jason, both starters in the Patriots' defensive backfield) have the most Super Bowl rings. The Griffins (Shaquill and Shaquem) are teammates and defensive players for the Seattle Seahawks, and the Hollisters (the Seahawks' Jacob and Titans' Cody) were up until last year teammates, too, in New England. "I guess my husband and I will have to be in separate cities on Sundays," Tracy said.
Khalil is a versatile player who played the majority of his snaps at defensive end in his final season at Nebraska, and who the Bucs see as a three-technique lineman in their 3-4 defense. Carlos is incredibly strong and equally as athletic, and the Steelers hope he can help them at nose tackle, a spot where they don't have a lot of depth. Both players join fierce defenses: The Bucs had the NFL's best run defense last season and tied for seventh in sacks (47) last season, while the Steelers led all defenses in both sacks (54) and turnovers (38). Even though they each join established units, Khalil and Carols see, and have been told, there is opportunity for them.