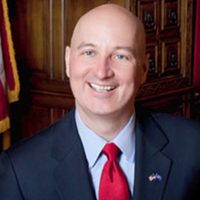 As the weekend approaches Governor Pete Ricketts is preparing to head out on yet another trade mission, this time to Germany. Governor Ricketts will be leaving on Saturday, November 8th and plans to thank several German companies that provide jobs throughout the United States including some in Nebraska.
Since Pete Ricketts took over as Governor of Nebraska in 2015 he continues to promote the state's quality products to other countries. The Republican Governor concluded a trade mission to Vietnam where we've nearly tripled our exports.
Ricketts also took time to thank the nearly 140,000 Veterans currently living in Nebraska. The Governor also mentioned a bill to assist Nebraska's Vet's. LB153 was introduced by United State's Veteran Senator Tom Brewer, then prioritized by Senator John Lowe of Kearney.
Huskeradio's Full Interview with Nebraska Governor Pete Ricketts can be found below.