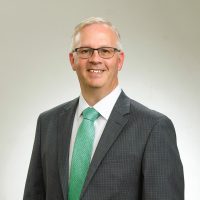 Brandon Kelliher has announced his candidacy for North Platte Mayor in the upcoming 2020 election. Brandon is the first candidate to announce his intentions to run for Mayor. According to a press release Mr. Kelliher's Vision 2020 platform has three major components: increasing jobs and wages, ensuring responsible spending and improving city infrastructure.
"I'm running for Mayor because I am concerned about North Platte," said Kelliher. "As a life-long resident of North Platte, the success and growth of our city is important to me. I want to help build a community where our children and grandchildren want to live in." Kelliher will spend the upcoming months engaging with community members, learning from their experiences and hearing their needs.
"Listening and engaging with the community is extremely important to me," said Kelliher. "As an advocate for transparent government, I want to hear about the things that matter most to North Platte residents." Kelliher says that taking the information that is important to the community, setting goals and reporting that information publicly in a "report card-like" format that is easy to read and understandable will be is one of his key initiatives as a Mayoral candidate.
With a strong background in leadership, communications and community involvement, Kelliher expressed his desire to bring his skills and passion for North Platte to the Mayor's position. Kelliher was born and raised in North Platte. After college, he returned to work full time at TC Engineering. In 1995, he started Netquest, the first Internet service provider in North Platte and grew a collation of internet providers in McCook, Benkelman, Hershey, Cozad, Ogallala, and Valentine, Nebraska.