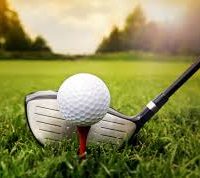 Bulldogs Put Five in Top 10 at B-4 District
A home course proved to be a huge plus for the North Platte boy's golf team, who cruised to a team title at the B-4 District Meet with a score of 308, 30 strokes better than second place Cozad. Held at Lake Maloney Golf Course in North Platte, McCook was a stroke back from the Haymakers, finishing at 339. Gothenburg came in seventh at 370.
The Bulldogs finished the entire team in the top 10 with Finn Lucas and Drew Phillips both shooting a 76 along with Cozad's Adam Cole to lead the pack. Jayden Jones and Tanner Ruda both shot a 78 while Kasch Morrison shot an 82.
Gothenburg was led by Jakeb Scherer who shot a 79, good for eighth. The full results from the meet are available here.
The top 10 individuals and top three teams qualify now for the Class B State Tournament at Elks Country Club in Columbus beginning next Tuesday, May 21st.
---
Irish Claim D-5 Meet at River's Edge
Along with the Bulldogs, a home course for the North Platte Saint Patrick's Irish led to a district title on Monday at River's Edge Golf Course with the Irish 23 strokes better than the field. NPSP shot a 360 with Mullen second at 383.
Individually the race wasn't a whole lot closer as Mullen's Koby Walker led the field with a 73, ahead of second-place Darian Hutto of Hitchcock County who finished at 77. Paxton's Jeremy McMillan-Peters finished at third with an 83 while the Irish took the next four spots. Teegan Sonneman shot an 86, Andrew Lindemeier followed with an 89 with Jacob Swift and Connor Hasenauer following an 92 and 93. Mullen's Josh Cox came in eighth with a 95.
Full results from the meet are available here. The top ten individuals and top three teams will all qualify for the Class D State Tournament held next Tuesday and Wednesday at Lake Maloney Golf Course.
---
Hershey's Benjamin shoots 78 at Cambridge for 2nd
At the C-5 District Meet at Cross Creek Golf Links in Cambridge, Hershey's Nolan Benjamin put together one of his best days shooting a 78, good for second overall and qualifying for the state meet. Cambridge's Preston Carbaugh won the meet with a 73.
Kimball won the team score at 355 with Perkins County second at 371. Valentine also qualified for the state meet with a third-place finish at 385. The full results from the meet are available here.
The top three teams and top ten individual scores from the meet qualify for the Class C State Meet, to be held at Meadowlark Hills Golf Course in Kearney next Tuesday and Wednesday.