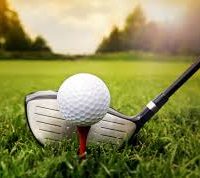 The North Platte Saint Pat's golfers once again tied with Perkins County through eighteen holes at the Perkins County Golf Invite Tuesday, forcing a playoff. Similar to the Cambridge Invite where the two team needed a playoff to decide that invite on March 27th, the Plainsmen edged NPSP with a one stroke win. Per playoff rules, the top four golfers from each team play a sudden death with all scores added together and Perkins County ended up one ahead. Both teams finished the eighteen holes at 337, with Hershey in third at 368. Sutherland was fourth at 369.
Individually there was no drama with Perkins County's Aaron Fay dominating with a 73 while Paxton's Jeremy Peters shot a 76, good for second. NPSP was led by a third-place finish in Teegan Sonneman who shot a 78 while teammate Conner Hasenauer finished in fifth with an 81. Sutherland was led by Tayton Schuster who shot an 84. Hershey's Andrew Weitzel led the Panthers with an 86.
Full team scores and top ten individual results are available below.
Team Standings
1 Perkins Co 337*Won playoff
2 NP St. Pats 337
3 Hershey 368
4 Sutherland 369
5 Garden Co 395
6 South Platte 463
7 Creek Valley 473
Dundy Co NTS
Hyannis NTS
Paxton NTS
Individual Scores:
1 73 (33-40) Aaron Fay Perkins Co
2 76 Jeremy Peters Paxton
3 78 Teegan Sonneman NP St. Pats
4 81 (40-41) Jacob Woodmancy Perkins Co
5 81 Conner Hagenauer NP St. Pats
6 84 Tayton Schuster Sutherland
7 84 Wyatt Santero Garden Co
8 86 Andrew Weitzel Hershey
9 86 (38-48) Carson Thelander Perkins Co
10 87 Brock Nollette Hyannis