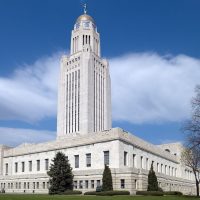 The flooding that devastated huge swaths of Nebraska may put a dent in the state budget and force the postponement of other expenses, but officials said the recovery costs should be manageable. Lawmakers are bracing for a likely wave of state agency budget requests in the next fiscal year as the state government's share of the disaster recovery costs become clearer.
Members of the budget-writing Appropriations Committee want to ensure the state has enough cash to handle new flood-related expenses as well as future weather disasters, said Sen. John Stinner, the committee's chairman.
"It became a priority, obviously," he said. "Other things that we might have done were left out of the budget." For instance, Stinner said lawmakers may postpone some funding increases to the state Department of Health and Human Services that aren't immediately needed. He said the Appropriations Committee is proposing an $11 million boost to the state's disaster response fund over the next two years to replenish money that was used to help local communities hit by flooding.
The account held around $3.9 million when the flooding began, and state officials have since obligated about $3.5 million, leaving an available balance of $400,000. The fund is used for immediate recovery efforts, such as debris removal and rescue operations, but also provides matching funds that are required to receive federal disaster aid.
Lawmakers typically try to maintain a balance of $5 million, but state emergency officials predict the fund could require an additional $3 million to $5 million in the next fiscal year and another $5 million the year after that.