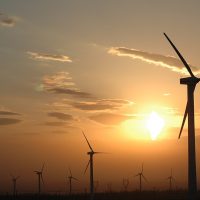 The state legislator who's introducing a wind energy bill says it doesn't aim to replace county zoning regulations but rather gives a voice to people who object to wind turbines near their property. Senator Tom Brewer, of Gordon, says it would give counties two years to enact zoning plans.
Brewer's bill is riling some county leaders, like Gage County zoning administrator Lisa Wiegand. She says the setback under the bill would be much greater than those in local regulations.
Brewer defends his bill, saying it regulates things people don't like to have near their homes, a list he says includes chicken plants, large-scale livestock lots, and landfills.