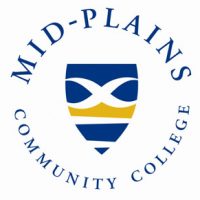 The North Platte Community College Knights volleyball team played a pair of Region IX Division I teams in the Eastern Wyoming Triangular. In the first match, the Knights defeated the host Eastern Wyoming College Lancers in four sets, 25-15, 25-22, 20-25, and 25-20. Sydney Mullin from Maxwell had 10 kills to lead the Knights.  Gabby Menghini was one behind at nine kills.  Taylin McNair from Imperial had 19 set assists, and Luisa Hernandez Marin from Yuma, Colo., led the Knights with 13 defensive digs.
In the second match of the night, the Knights faced a tough opponent in the National Junior College Athletic Association Division I 11th ranked team, the Western Nebraska Community College Cougars. The Cougars defeated the Knights in four sets, 25-17, 25-14, 17-25, and 25-13.
Two of the Knights finished in double figures in kills, led by Hernandez Marin with 11 and Menghini with 10.  Carlie Wytulka from Nucla, Colo., added 21 set assists and Bailey Chintala from Fleming, Colo., had 15 defensive digs to also lead the Knights.
"We still need to work on cleaning up our play. We look really good and then in the next play we fall apart. We have to start putting some things together at this point in the season." Knights Head Coach Alexa McCall said.  "I was glad to beat EWC but thought we could have gotten at least another set off of Western. The Knights are now 6-7 on the year.  They are in action on Thursday, Sept. 13 when they travel to play McCook Community College.  Match starts at 7 p.m.