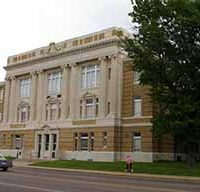 Lincoln County saw a 25% voter turnout overall. Early voting was enough for write-in candidate Judy Pederson to make her way to the official ballot in the General Election this November. Judy Pederson tallied 1,251 votes and will face State Senator Mike Groene who finished with 4,228 votes or 75.24 percent.
In the race for County Treasurer to replace the retiring Sue Fleck, Lorie Koertner finished with 2,046 votes coming out ahead of Michelle Gurciullo who finished with 1,868 votes. Several County Commissioner races came down to the wire as Brent Roggow tallied 533 votes just ten votes shy of opponent Kent Weems, Mr. Weems has won the County Commissioner's Second District on the republican side and will now face Randy Stubbs. In the third district Bill Henry was victorious with 659 votes, Ryan Sellers finished with 452 and Chance Nutter with 405. Mr. Henry will soon being his second term in the Third District.
However perhaps the most unpredictable of them all was the run for City Council's 4th Ward. The race was neck in neck all evening along however Ed Rieker tallied more votes than any other candidate with 195 votes. as Ed finished with 195 votes. Susan Conrad was close second with 184 votes, both will move onto the General Election this November.