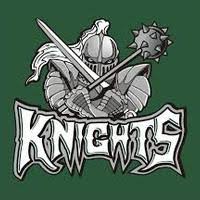 Sprints were the key for the Sandhills-Thedford Knight's track teams as they competed at the West Holt Invite on Thursday. On both girl's and the boy's side, the Knights took home either first or second place in the 100, 200 and 400 meter dashes. As a team, the boy's took home 5th place, ending up with 58 team total points. Ord won the title at 129 points, followed by North Central at 102. Girl's team scores were not reported.
Individually for the Knights it was a banner day for Nolan Marten as he took home two golds in the 100 meter dash (11.39) and the 200 meter dash (24.12). He also finished in 2nd in the 400 meter dash, finishing at 53.55 seconds, just behind Jordan Tasler of West Holt (52.92). Tyler Swisher also took home gold for the Knights, winning the boy's shot put with a throw of 48-06.50. He also finished in 5th in discus.
On the girl's side, Carlie Collier kept pace with Marten, winning the 100 meter dash (12.92) along with the 400 meter dash (1:03.3). Collier also came in 2nd place in the 200 and was a member of the Knight's 2nd place 4×1 relay finish.
Full results are available from the meet here.