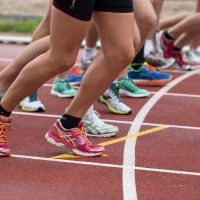 The North Platte boy's and girl's track teams competed at the Jo Dusatko Track Invite yesterday. The boys finished with 47 team points and a fifth place team finish. Lincoln walked away as champions with 158 points followed by Kearney with 123.50. Creighton Prep finished with 62 and Millard West rounded out the top 4 with 60 team points.
North Platte was led by Elliot Purdy, who claimed a title in both the shot put with a throw of 53-9 and the discus with a throw of 159-2. Nick Bocott added a second place finish in the 300 meter hurdles finishing with a time of 42.04.
As for the girls they tied for a tenth place finish with Omaha South. Kearney lead the team in scoring with 166 team points followed by Millard West with 113 and Omaha North with 74.
Full individual results are available here.
Team Scores – GIRLS
1 Kearney KRNY 166
2 Millard West MW 113
3 Omaha North ONO 74
4 Lincoln LSF 72
5 Lincoln North Star LNS 35
6 Omaha Benson BEN 23
7 South Sioux City SSC 17
8 Omaha Marian MAR 14
9 Omaha Central CEN 7
10 North Platte NP 3
10 Omaha South OSO 3
Team Scores – BOYS
1 Lincoln LSF 158
2 Kearney KRNY 123 . 50
3 Creighton Preparatory CP 62
4 Millard West MW 60
5 North Platte NP 47
6 Lincoln North Star LNS 39
7 Omaha Benson BEN 17
8 Omaha North ONO 13
9 Omaha Central CEN 5 . 50
10 Omaha South OSO 2