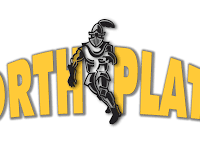 The North Platte Community College Knights basketball team avenged an earlier loss to the Hastings College Broncos Junior Varsity 64-53 on Tuesday night.
The Broncos defeated the Knights in North Platte 88-83 in the first game of the season.
The Knights led at halftime 32-20.
The Knights are now 2-4 on the season. Trajan Harris led the Knights with 12 points and Godfrey Rolle had 11 points for the Knights.
Logan Cale led the Broncos with 10 points.
The Knights will be in action this Friday, Dec 1, at home when they host Laramie Community College in a Region IX South Sub-Region contest. Game time is 7:30.
The game will be live streamed at www.npccknights.com.