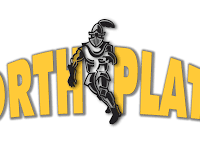 The North Platte Community College Lady Knights volleyball team went 1-1 at the Ramada Inn Invitational on Friday.
In the first game the Lady Knights defeated the Bismarck State College Mystics in three sets, 25-15, 25-23, and 25-21.
Luisa Hernandez had 10 kills to lead the Lady Knights.  Hernandez and Shaylee Johnson each had two service aces.  Johnson also had four total blocks.  Carlie Wytulka had 29 set assists. Jordynn Simpson had 11 defensive digs to also lead the Lady Knights
Lady Knight Head Coach Alexa McCall said, "I was pleased with how we played in the first game. I thought we stayed aggressive and that helped us out."
In the second game of the day, the Lady Knights were defeated by the Fort Scott Community College Lady Greyhounds in three sets, 19-25, 18-25, and 21-25.
Hernandez had 13 kills, followed by Amanda Kroeger and Aly Camacho with seven kills each.  Carlie Wytulka had 13 defensive digs and 32 set assists to also lead the Lady Knights.
McCall said, "In the second game we played tough against a good team but just couldn't keep serve long enough. We made adjustments and worked hard just came up short."
The Lady Knights, 12-17 on the season, continue action tomorrow when they face Williston State at 9 am and then conclude their part of the tournament against Kansas City Kansas Community College at 1 pm.