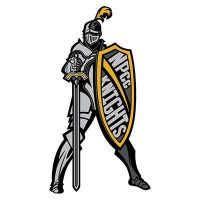 The North Platte Community College Lady Knights volleyball team finished the Sports Shoppe Invitational on a winning note, going 1-1 on Saturday.
In the first match of the day, the Lady Knights started out well but fell to the 16th ranked Cowley County Community College Lady Tigers in four sets 23-25, 25-21, 25-16, and 25-20.
Lady Knight Head Coach Alexa McCall said, "We had some really good moments against a good Cowley team, just pretty inconsistent."
Luisa Hernandez had 12 kills and Neci Sundquist added 10 kills to lead the attack for the Lady Knights.  Taylin McNair had 17 defensive digs and 17 set assists for the Lady Knights.
Lady Knights finished their portion of the tournament with a five set victory over Neosho County Community College16-25, 25-20, 25-22, 24-26, and 15-10.
"I'm glad we came out with a win against Neosho. It helped our mental toughness and we really used momentum to our advantage and took them out of their game." McCall said.  "We talked about serving aggressive and moving passers and really did a good job."
Hernandez finished the match with 19 kills and 22 defensive digs to pace the Lady Knights.  McNair had 21 set assists and Carlie Wytulka added 12 set assists.
The Lady Knights finish the Invitational at 2-2 and are now 6-9 on the season.
The Lady Knights return to McCook on Tuesday, September 12 for a triangular against McCook Community College and Laramie County Community College.
The matches will be live streamed at www.mccindians.com.