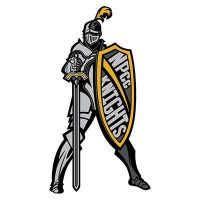 The North Platte Community College Lady Knights volleyball team went 1-1 on the first day of the Sports Shoppe Invitational.
In the first match of the day, the Lady Knights avenged an earlier loss, defeating the Highland Community College Scotties in four sets 21-25, 25-20, 26-24, and 25-18.
Lady Knight Head Coach Alexa McCall said, "We played a great game against Highland and really attacked them. I thought we served and passed really well."
Luisa Hernandez, Neci Sundquist, Amanda Kroeger, and Aly Camacho each had nine kills for the Lady Knights.  Camacho had seven total blocks, Hernandez had 23 defensive digs, Taylin McNair 26 set assists to lead the Lady Knights.
In the second match of the day, the Lady Knights were defeated by the Butler County Community College Lady Grizlies in straight sets, 21-25, 21-25, and 19-25.
McCall said, "Against Butler we saw some good things but were just inconsistent."
Hernandez led the Lady Knights in kills with 10 and 12 defensive digs.  McNair had 20 set assosts, Camacho had five total blocks.
The Lady Knights, now 5-9 on the season will continue at the Sports Shoppe Invite with two matches tomorrow against 16th rated Cowley County at 9 AM and then close out their portion of the Invite against Neosho County Community College at 1 PM.
"We will have some good opportunities tomorrow and we have to advantage and work hard." McCall said.
The matches will be livestreamed at www.mccindians.com.